Where we are now
18/08/2020
We're making our next prototype which we hope to use for some wider user testing. If you're interested in participating with user testing, please click here.
Our journey
Our inspiration came from Ben, who is a family friend with a severe hand tremor. He struggled a lot with eating and could not afford existing solutions on the market which cost upwards of £150.
October 2018
October 1, 2018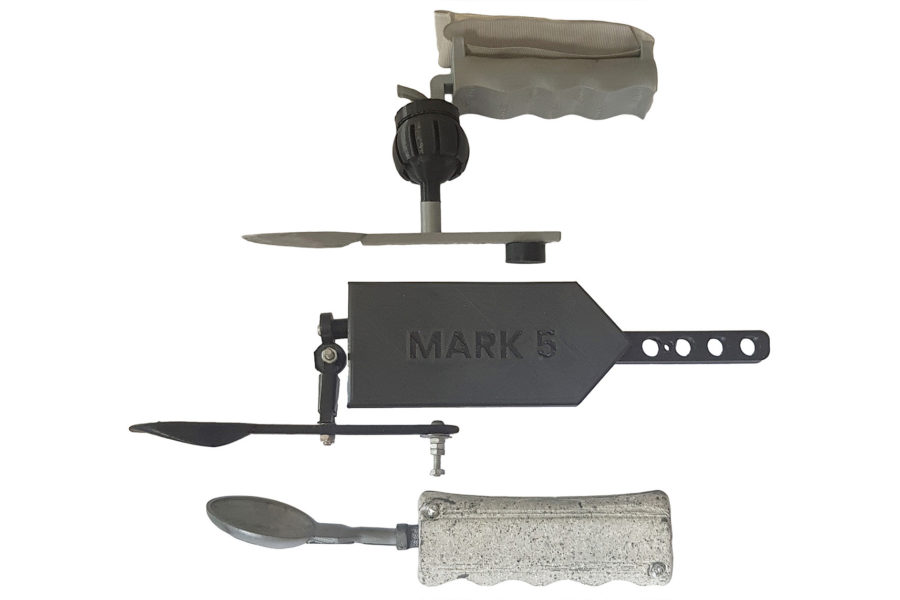 Hemal, a Mechanical Engineering student at the University of Warwick, decided to create his own affordable solution for Ben as part of his third-year dissertation. The picture shows some of our early prototypes!
We invent a mechanism which reduces the effect of a tremor by up to 70% while costing significantly less than existing products. Unlike competitors, this mechanism uses no costly electronics and is entirely mechanical instead!
October 2019
October 1, 2019
The stablspoon team win the Spark Product Development Fund 2019 competition and are awarded funding, sponsored by the Design Council and the Alzheimer's Society. The picture shows Hemal along with Deborah Meaden, leading UK entrepreneur, and Colin Capper, head of research for the Alzheimer's Society.
We have partnered up with Jam Sandwich Design and are continuing to develop stablspoon. We've also been shortlisted for the Engineering Talent Awards 'Best Innovation of the Year 2020' and for the Design Intelligence Awards 2020.
Awards